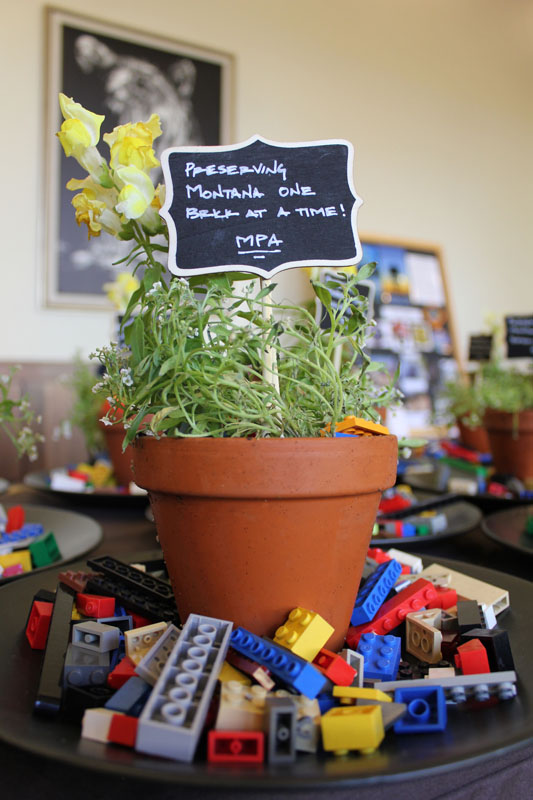 The Montana Preservation Alliance (MPA) is delighted to announce the recipients of our 2018 Historic Preservation Excellence Awards. The Unsung Heroes Awards Luncheon to celebrate the honorees will take place during the Montana Preservation Road Show at the Cedar Creek Lodge in Columbia Falls at Noon on Friday, June 15. The event is sponsored by JVA Engineers.
Since 2001, MPA has celebrated individuals who have made an outstanding effort to save and protect Montana's special historic buildings and places. Not only do we applaud good stewards and advocates for heritage properties, we also promote the importance of historic preservation as a tool for economic development, community vitality, and increased tourism. As we commend these outstanding efforts to preserve Montana, we further our mission to preserve historic places, traditional landscapes, and cultural heritage.
This year's group of honorees is wide ranging in their accomplishments and impressive in their creative vision and tireless efforts to keep history alive. In honoring their achievements, we hope to inspire others and encourage a host of new preservation projects.
And the honorees are . . .
Ellen Baumler, Helena
Outstanding Individual Achievement
Ellen Baumler retires this year as the interpretive historian for the Montana Historical Society, a role she has served in for over 25 years. Since 1992, when she took on the Montana Historical Society's National Register sign program she has written the text for hundreds of interpretive signs, written dozens of National Register nominations, created walking tours and school educational units, and published papers on various aspects of Montana history. She is the author of seven books on ghosts and haunted places in Montana, and is a fixture each year in Reeder's Alley, giving tours of the Pioneer cabin and the old stone house, and bringing to life the early history of Helena for scores of elementary school kids.
In many ways, she has been an ambassador of history for the Montana Historical Society and has brought much needed attention to underserved topics that resonate with the public including haunted places, red light ladies, and ethnic settlements. She has carried her love of history over the airwaves too, with her radio programs "History on the Go" and her blog, Montana Moments. Ellen has been called a "rock star of history," a title she is happy to claim in honor of her love of historical places and her long standing commitment to telling the stories of our past in ways that make history accessible to all.
Big Hole Lookout, Plains Thompson Falls Ranger District
Outstanding Federal Preservation Project
The Big Hole Lookout Restoration project was a multi-year group effort led by Erika Karuzas at the Plains Thompson Falls Ranger District. The Big Hole Lookout is a simple log-cabin style lookout with windows on all sides, built in 1930 and used until 1971. By 2013, 40 years of deferred maintenance was starting to show, but thanks to a dedicated group of lookout huggers, the Big Hole was given a new lease on life.
Starting in 2013, Ms. Karuzas put together an army of volunteers and Forest Service staff to get the job done. Help came from the Forest Service Region 1 Passport in Time (PIT) volunteers, as well as the Region 1 preservation team and pack string, Wild Horse Plains Backcountry Horsemen (BCH) and the Sanders County Youth Conservation Corps. Over three years, rotting log walls were replaced in kind with new logs, all 19 windows were removed, repaired, and repainted, and the outhouse restored.
All involved held their breath in 2016, when the Copper King Wildfire started on July 31st. The crew said their farewells, and hiked down not knowing if they would ever see Big Hole again. Luckily, Plains Thompson Falls District fire staff were able to quickly install structure wrap on Big Hole Lookout, and it survived the fire. After one more year of work the lookout was finally complete, and ready for public use. The Big Hole Lookout restoration project is a great example of many partners coming together to rescue a distinctive part of Montana's forest history, making it vibrant, and useful to the public for many years to come.
John & Stephanie Hekkel, Dale Harris for Restoration of the Club Moderne, Anaconda,
Outstanding Commercial Restoration
The Club Moderne has served as one of the most illustrious watering holes in Montana since October 1937, when Anaconda bartender John "Skinny" Francisco, decided to build a new club at the corner of East Park and Ash Streets. Francisco spared no expense in erecting the most fashionable, sleek, and swank drinking establishment for miles. What he built, is now recognized as one of the most intact and striking examples of Streamlined Moderne architecture and design in Montana and the Northern Rockies. The Club Moderne was listed in the National Register of Historic Places in 1986 and is a contributing resource within the Butte-Walkerville-Anaconda Historic District National Historic Landmark. A landmark renowned far beyond Montana, the Club Moderne was voted "America's Favorite Historic Bar" in the National Trust for Historic Preservation's 2016 Big Tap contest.
Not long after that illustrious designation, on October 3, 2016, the Club Moderne was devastated by a structural fire. Though the fire destroyed much of the building, a remarkable number of historic features were spared damage. By the next morning, owners John and Stephanie Hekkel determined they would save the club if possible, and embarked on an effort to preserve all they could, and restore what was lost.
The entire community rallied around the Hekkels, who invested over $200,000 to bring the building back. With funds from local development, the National Trust for Historic Preservation and insurance, the work was meticulously carried out by Dale Harris Construction, a skilled local craftsman. Dale refurbished the bar, rebuilt lighting and interior ceilings, restored the booths and reinstalled the glass Vitrolite panels on the exterior below the newly rebuilt roof.
In 2017, the owners and community members celebrated the 80th anniversary of the club, with period costumes and a special thank you to all who helped raise it back from the ashes. We are pleased to honor this family for having the vision and commitment to bring the Club back to its former self, and restore this important legacy of Anaconda history for new generations of the community to proudly enjoy.
Helmville Rodeo Club, Helmville
Outstanding Community Preservation Project
Since the 1870s, the small ranching community of Helmville has come together every year in the production of its historic rodeo, which raises funds to support the community hall. Central to the rodeo is the historic rodeo grandstand, where generations have gathered to watch skilled riders in action and take part in a friendly competition. But after many years of use and abuse from wind, weather, and wear, the grandstand had deteriorated to the point where it was no longer safe to use – a problem that seriously threatened the historic identity and viability of the Helmville Rodeo Club.
The Club's Bill Baker and a team of Helmvillers set about fundraising, and talking to historic preservation experts, contractors, and materials suppliers to restore the grandstand. All in Helmville agreed that maintaining the historic integrity of the grandstand was a primary goal of the project.
Support came from people all across Western Montana including individuals, families, nonprofits like the Montana History Foundation and MPA, businesses, and corporations. The Club's $80,000 fundraising goal was quickly surpassed and within three months exceeded $100,000. One dinner alone netted $54,000.
With funding secured, the grandstand was restored in time for 3,000 folks to converge on the 2017 Helmville rodeo. What began as a small town's dilemma – trying to repair and preserve an historic structure and maintain a community tradition – became a symbol in a larger sense for the many rural communities working to protect and perpetuate their way of life. This award celebrates the efforts of Bill Baker, and all in Helmville and beyond, who helped breathe new life into the Helmville Rodeo Club.
Masonic Temple Number 18, Bozeman
Outstanding Commercial Rehabilitation

The downtown Bozeman community watched with anticipation as the 1890 Story Building was uncovered and returned to its original grandeur. Back in 1949, the Masonic Lodge stripped down the building's facade to stay current with downtown storefront trends. After further remodeling in 1980 that covered all the windows, the Masonic Lodge became a faceless, unwelcoming building. In 2014, the Masonic Temple Board (MTI) undertook the huge task of uncovering the building to improve their lodge, and also create a welcoming space for community events.
The project became part restoration on the Main St. façade where workers in 1949 and 1980 had left much of the brick, window hoods, and corbeled brick panels intact, and part rehabilitation for the side façade, where alterations over time had left little original material to work with.

With so many layers of remodeling, the restoration and rehabilitation of each façade was often like solving a puzzle. CTA's structural engineer worked closely with the contractor on site, revising the details as required. The Masonic Temple did not have to undertake this extensive rehabilitation. From the beginning, both the building committee and the Masonic Temple board encouraged design that would return their building to Main Street -- they wanted to support the historic character of their town, allowing people to enter and engage with it. The Masonic Temple and their members, invested in their future while investing in Bozeman's future.
Francis Auld, Pablo
Outstanding Individual Achievement

Francis Auld, a Confederated Salish and Kootenai (CSKT) tribal member and Kootenai Elder, is a long-standing and highly respected member of Montana's historic preservation community. His commitment to preserving the culture of the Kootenai people, and his dedication to forging positive, on-going relationships with state and federal agencies, archaeologists, and local communities are significant, lasting and immeasurable contributions to cultural resource preservation in Montana.
In 1990, Francis began working as a Cultural Resource Specialist for the Kootenai Culture Committee and quickly became a steadfast representative of his culture in the face of overt racism, cultural prejudice and indifference. I In 1996, he became the Tribal Historic Preservation Officer or THPO. Francis willingly engaged with state and federal agency officials with determination, grace and humor at a time when tribal consultation was only beginning to be taken seriously by agencies.
Throughout the 1990s, Francis formally participated in countless reviews of agency and tribal projects under the National Historic Preservation Act and other legislation. Building on the relationships established during his tenure on the Culture Committee, Francis and other THPO staff regularly met with agency archaeologists and land managers to review their annual work programs and identify issues and lands of tribal concern. During these consultations, Francis' insights and humor helped to overcome occasionally contentious conversations about individual projects and issues. These discussions often centered on how best to preserve "intangible" (non-archaeological) resources, like landscape features associated with tribal place names and history. The CSKT THPO's positive approach to tribal-agency consultation, guided greatly by Francis's leadership, eventually became the model for other Montana tribes as their certified THPO programs came on-line. Since then, Francis has served as the Co-Director of the CSKT THPO program, and has been instrumental in developing the Tribal Preservation major at Salish Kootenai College in Pablo.
As a spiritual leader, Francis continues to participate in the repatriation of Native skeletal remains, including the 2014 reburial of the ancient Anzick children. In May 2015, Francis returned to working for the Kootenai Culture Committee, where he administers the Kootenai Language Apprentice Program. He is currently mentoring five students in the ancient Kootenai language. Francis continues to play a vital role in Kootenai culture preservation and his views and opinions are still sought and well regarded today by archaeologists and historic preservation specialists in Montana, and on the adjacent Columbia Plateau and Northern Plains.
Francis' contributions to historic preservation in Montana are many and varied. As a tribal leader, educator, collaborator and communicator, we cannot imagine anyone more deserving of this prestigious Montana Preservation Alliance award than Mr. Francis L. Auld.